1952. április 24-én született Arcueilben, Párizsban. Soha nem járt divatiskolába, ehelyett skicceket kezdett küldözgetni híres tervezőknek. 1970-ben Pierre Cardin felfigyelt rá és alkalmazta asszisztensként.
J. P. Gaultier
Source
Egy évvel később Jacques Esterel-nek, majd Jean Patou-nak dolgozott. 1974-től 1975-ig ismét Cardin segítségére volt; újonnan nyílt butikját menedzselte Manilában.
Az első saját kollekciója 1976-ban látott napvilágot. Hamarosan az extravagáns, konvencióromboló kreációiról vált híressé. A fűzőt topként adta modelljeire, tetoválást mímelő harisnyát húzott a lábukra, a férfiaknak pedig szoknyát tervezett.
Modelljei néha agyontetovált, piercinges, esetenként elhízott, öregebb nők. Mindezek mellett a klasszikus öltözékek is szerepelnek munkásságában – például a szmokingot és a trencskót.
Jean Paul Gaultier's first collection, Spring/Summer 1977
Source
A kilencvenes évek Eurotrash televíziós showja tette ismertté. 6 epizód erejéig vezette a műsort.
Világhírűvé vált Madonna 1990-es Blond Ambition turnéjának kapcsán. Ő tervezte a fellépőruhákat, és csúcsos melltartójú fűzőjével nagy vihart kavart.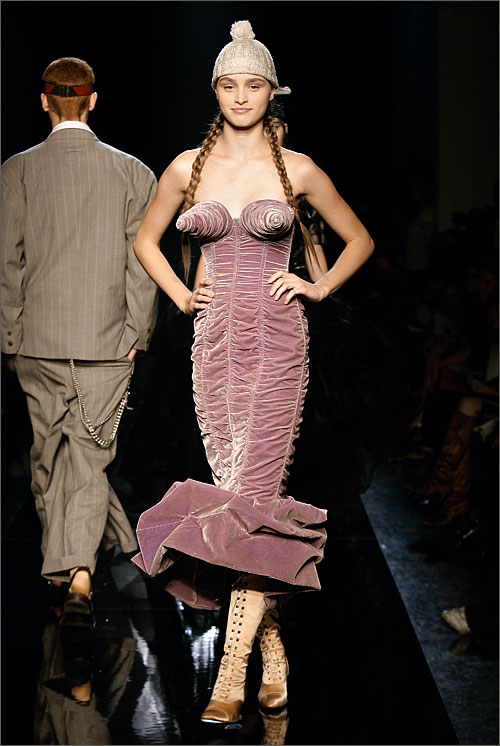 Jean Paul Gaultier
"Barbes" collection / Pret-a-Porter F/W 1984-1985
Source
2006-ban ismét együtt dolgoztak, a Confessions Tour kreációin.
A filmes jelmeztervezésben is szárnyalt, leghíresebb munkája Az ötödik elem lett A szakács, a tolvaj, a feleség és a szeretője, valamint a Kika című alkotások mellett.
FASHION FOR THE FIFTH ELEMENT BY JEAN PAUL GAULTIER
source
The Fifth Element Costume Designer Jean Paul Gaultier
Source
2004-től kezdve a Hermès divatháznak dolgozik, a nőiruha kollekcióért felelős.
Saját divatházá is van,
utcai ruhákat, valamint haute couture öltözékeket készít.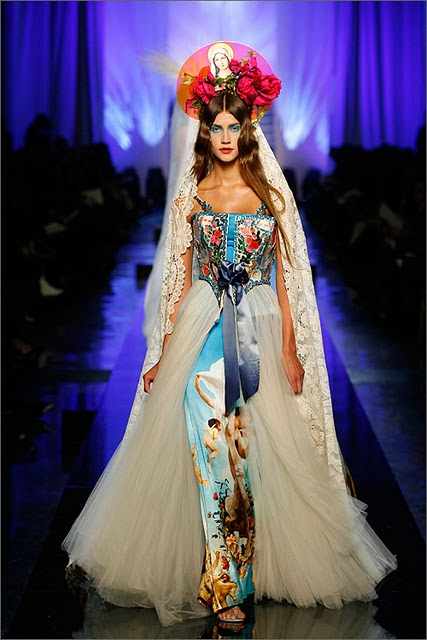 "Les Vierges"(Virgins) collection / Apparitions dress / Haute Couture S/S 2007
Patrice Stable / Jean Paul Gaultier
Source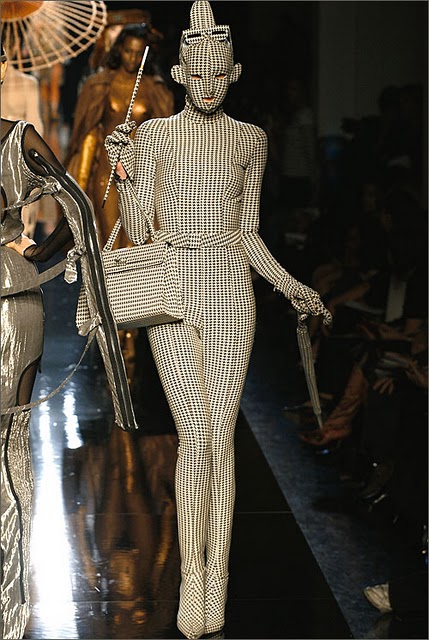 Jean Paul Gaultier: From the Sidewalk to the Catwalk
2011
Source
Dita von Teese wearing Gaultier SS 2014